A Focus Group Discussion (FGD) which coordinated by the ASEAN Studies Center of Universitas Gadjah Mada and  of the Ministry of Foreign Affairs of Indonesia was successfully held on Tuesday, 8 September 2021 through the online platform, Zoom. The discussion was conducted to support a research titled "Indonesia's Chairmanship in ASEAN 2023: Optimizing the Strengthening of the ASEAN E-Commerce Sector in order to Accelerate Economic Recovery" and is a continuation of the first FGD which was held on 2 July 2021.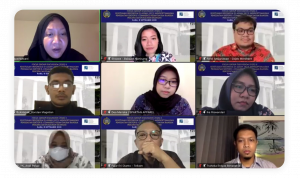 The discussion was led by Research Lead, Pulung Setiosuci Perbowani and gathered 8 panelists representing (1) the marketplaces, namely Balques Manisang (Shopee); Ferdi Anggriawan (Go-Jek); Bondan Trihadi Magetian (Bukalapak); (2) e-commerce business actors: Dea Mariska Aprillah (Spartan Apparel); (3) Consumer: Ika Kurnia Riswandari (Indonesian, ASEAN, and Southeast Asian user of marketplaces); (4) Financial Technology/Financial Authority: Andi Adityaning Palupi (Bank Indonesia Daerah Istimewa Yogyakarta); and Fajar Eri Dianto (Telkom); and (5) Academia: Traheka Erdyas Bimanatya (Macro-Economist UGM).
The discussion took place in the talk show format and looked into the following topics, namely the mapping of a digital market, international market regulations, digital acceleration, payment method, and quality control as well as market strategy. This discussion also touched upon the long term prospect of e-commerce by peering into macroeconomic data. Traheka Erdyas Bimanatya pointed towards the fact that COVID-19 pandemic was not the cause of the digital market, but rather a catalyst for a transition to the digital market. E-commerce and physical stores are direct competitors, and therefore one mobility restrictions are lifted, consumers may return to shopping offline. As such, key players of e-commerce must strategize for the post-pandemic world if they wish to maintain their sales.
After the discussion session,  a question and answer session took place to entertain queries from researchers of the ASEAN Studies Center UGM. The event was closed by a closing statement from Muhammad Takdir, Head of Center for Foreign Policy Strategy for Asia-Pacific and Africa. In speech he highlighted the importance of adapting to the regional developments and, at the same time, linking it to our national interests, especially the interests of consumers and industries.
https://asc.fisipol.ugm.ac.id/wp-content/uploads/sites/741/2021/09/web-thumbnail.png
937
2416
syukron.subkhi
http://asc.fisipol.ugm.ac.id/wp-content/uploads/sites/741/2019/03/Logo.png
syukron.subkhi
2021-09-20 08:03:52
2021-09-20 08:03:52
Focus Group Discussion on Collaborative Research with Foreign Policy Strategy Agency (BSKLN) The Ministry of Foreign Affairs of Indonesia