Efforts to Improve the ASEAN Football Levels Through Asian Eleven
ASEAN Football Track Record  
Football is one of the most popular sports in the world, and ASEAN is no exception. However, ASEAN football is considerably still at the developmental stage compared to football in other regions or countries, such as Europe. Such a view exists due to the fact that the achievements of football teams from ASEAN Countries are still relatively unimpressive within the Asian and world football scenes. The success of both national teams of Myanmar U-19 and Vietnam U-19 that reached the semifinals of the AFC Asian Cup U-19 in 2014 and 2016, has been a remarkable achievement for ASEAN football in the age-group tournament. These results finally made Myanmar and Vietnam national teams eligible for competing in the FIFA World Cup U-20, which was held in 2015 and 2017, respectively. But unfortunately, they did not perform impressively during each tournament and became caretakers in the final standings of the group. While in the senior football group, no ASEAN representative has ever qualified for the World Cup. So far, the best achievements of ASEAN representatives are shown through the success of several national teams that were able to advance to the third round of the Asian World Cup qualification, including Indonesia, Singapore, and Thailand in the 2014 World Cup qualifiers. Thailand for the second time managed to survive in the World Cup 2018 qualifiers, and now recently followed by Vietnam in 2022 World Cup qualification. 
Japan's Football Achievement 
The achievements of ASEAN football today can be said to be very much different from the achievements of other Asian football countries, such as Japan. It is safe to say that Japanese football can be considered as one of the most advanced or even the best ones throughout Asia in recent days. This is evidenced by Japan's success in winning the AFC Asia Cup four times, back then in 1992, 2000, 2004, and 2011. Aside from that, Japan has never missed out on any World Cup matches since 1998. In addition to making achievements in Asian Cup and World Cup competitions, Japanese national football also managed to score achievements at the London 2012 Olympics and the Tokyo 2020 Olympics, by successfully occupying fourth place. Nowadays, there are many Japanese football players who are playing in the top European leagues. For instance, in the Premier League (England) there are Takumi Minamino and Takehiro Tomiyasu who join with Liverpool and Arsenal. While in La Liga (Spain), Takefusa Kubo and Gaku Shibasaki also joined RCD Mallorca and CD Leganes, respectively. In the Bundesliga (Germany), there are Makoto Hasebe and Daichi Kamada who both play for Eintracht Frankfurt. While other two Japanese football players, namely Maya Yoshida (U.C. Sampdoria) and Eiji Kawashima (RC Strasbourg), are playing in Serie A (Italy) and Ligue 1 (France). By this, it is not surprising if Japanese national football team is now considered 50% stronger than ever, as it eventually shows that Japanese football is very advanced compared to the ASEAN's football league. 
 Asian Eleven for the Future of ASEAN Football 
Japan's remarkable achievements in Asia –and even in the world– have encouraged this country to become the role model in Asian football (46 Asian Football Associations) scene by enhancing Japan's football players' skills. Southeast Asia is a region that received more attention from Japan, especially in the field of football. This could be seen through the Football Exchange Project which was established in November 2014. The project was formed based on a memorandum of understanding between The Japan Foundation Asia Center, the Japanese Football Association (JFA), and the Japan Professional Football League (J.League), which was also supported by the Japanese Ministry of Foreign Affairs. Within its implementation in 2019, the Football Exchange Project was later known as Asian Eleven. The Asian Eleven essentially intended to accommodate talented players under the age of 18 as well as local ASEAN coaches. The main objective of the program is to foster football talent among ASEAN countries and Japan, promote mutual understanding among people, especially among youth through football, and share experiences that Japanese football has learned and developed so far. 
In an attempt to achieve maximum results, there are two main projects carried out in the Asian Eleven collaboration, namely Project in the ASEAN Nations and Project in Japan. The Project in ASEAN Nations has two focal points that are of concern within the project's implementation. First, the long-term deployment of personnel, namely Japanese coaches and staff who are sent to stay in one of the ASEAN countries for more than one year. The main goal is to raise the level of national football through engagement with local youth players and coaches. Second, the dispatch of short-term trainers. The coaching staff of each J.League club will be sent to an ASEAN country once to twice a year for a period of approximately one week. It aims to encourage the J.League club's coaching staff to engage in player training and network with local football personnel.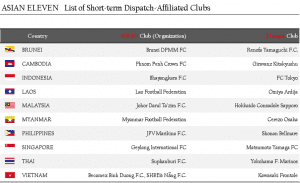 Photo source: jfac.jp 
The project in Japan has three focal points. Firstly, Invite Players, which allows players to concentrate on learning Japanese football in a period of approximately one month. The aim is to develop and increase their level and provide an opportunity to get to know Japan. Secondly, Invite Coaches, which aims to train coaching staff who are responsible for fostering player development, especially in improving national team football. Lastly, Invite Personnel related to the league, which provides a forum to share knowledge to develop and strengthen football leagues in ASEAN countries. 
Asian Eleven 2019 ended with the holding of two friendly matches as the highlight of the event. Asian Eleven 2019 ended with the holding of two friendly matches as the highlight of the event. The JapaFun Cup was the first friendly match to be held between Asian Eleven U-18 and the Tohoku U-18 Selection Team at J-Village Stadium, Fukushima on June 22, 2019. The Asian Eleven U-18 team was a combination of representatives from ASEAN countries and Timor Leste as a country observer (each country nominated 2 players). This match ended with a score of 0-0 and continued through a penalty shootout that was won by the Asian Eleven U-18 team. The second friendly match was the Japan Foundation Bangkok Cup Asian Eleven U-16 (which consists of representatives of Cambodia, Indonesia, Japan, Laos, Malaysia, Myanmar, Philippines, Singapore, Vietnam, and ASEAN observer country Timor-Leste) and the U-16 Thailand national football team, on November 3, 2019. This match ended with a score of 2-2, which then followed with the penalty shootouts that finally led the Asian Eleven U-16 team to victory. 
Asian Eleven 2019 has run very well and was expected to continue in 2020 and in the following years. As it is believed that the program will not only increase the level of ASEAN football but also can strengthen the relations between Japan and ASEAN countries (both regionally and bilaterally), especially through sports. However, with the COVID-19 pandemic, both ASEAN countries and Japan are now prioritizing the health conditions of the players, coaches, and all parties involved. This results in the postponement of the Asian Eleven program for an indefinite time, and it is hoped that as soon as the world gets better the Asian Eleven program could be held again. 
About Writer 
Munawar Wahid Sugiyarto

is a Media and Publication Intern at ASEAN Studies Center, Universitas Gadjah Mada.

He holds a bachelor's degree in Social Sciences majors in International Relations with particular focuses on

Southeast Asian and European studies, and also about sports, especially football. He can be contacted through e-mail:

munawarmws@gmail.com

.

 
https://asc.fisipol.ugm.ac.id/wp-content/uploads/sites/741/2022/01/Picture-Thumbnail.png
508
904
syukron.subkhi
http://asc.fisipol.ugm.ac.id/wp-content/uploads/sites/741/2019/03/Logo.png
syukron.subkhi
2022-01-04 06:29:53
2022-01-05 03:53:47
Efforts to Improve the ASEAN Football Levels Through Asian Eleven