The Youth Resistance Towards Myanmar's Military Coup: Efforts of Young Generation Protest Through Art
What is Happening in Myanmar? 
On the 1st of February, Myanmar's military forces enacted a state of emergency and began a coup d'état. This circumstance occurred because they claimed that the November 2020 general election results were null and void, stating it was "election fraud". However, according to the board of elections, there is no supporting evidence to back up these allegations. The military also declares its intention to hold a new election once the year-long state of emergency is lifted. This coup took place a day before Myanmar's Government was scheduled to swear the oath of members elected in last year's election, preventing this from happening. Following the detainment of President Win Myint and the State's Counsellor, Aung San Suu Kyi, along with several executive members of the current National League for Democracy (NLD). 
 Myanmar, also known as Burma, has been afflicted by political turmoil since gaining independence in 1948. During the country's current state, a human rights organization in Myanmar is urging the United Nations to place an embargo on the Southeast Asian country to prevent its military from using weapons towards civilians. The Burma Human Rights Network (BHRN) issued a statement saying, "The international community must strongly sanction military officials and military-owned organizations and enforce a global arms embargo." However, the international institutions considered the coup a part of Myanmar's internal conflict and constitutional crisis, which resulted in the ending of civil government and the imposition of the military regime. Nevertheless, the coup has sparked many demonstrations and civil protest attempts in various parts of Myanmar. Efforts of resistance have also been initiated, particularly by the young generations of Burma, to express their outrage addressed to the authoritarian military regime. 
The Youth Strikes Back 
The Myanmar military's atrocities began with the shooting of a young woman during a public protest rally. After being shot in the head, Mya Thwe Thwe Khaing became the first protester to die in Myanmar's anti-coup demonstrations. She is the first martyr in Myanmar's civil disobedience movement, spreading throughout the nation until now. According to rights organizations, her wound was consistent with one caused by direct ammunition. As the picture of the protester being cradled after being shot went viral, her death has caused even more outrage against the authorities. Her image has been painted and hung on massive posters from overpasses in Yangon, becoming one of the signature motifs of an already visually rich and creative protest movement. 
Following the incident, young artists across Burma are using their talents to spread the word of the resistance Civil Disobedience Movement (CDM) while facing internet outages, strong military presence, and nighttime raids and arrests. "Art is not only a tool against the government but also a record to reflect on the current situation," said the Yangon-based artist to Artnet News, Khin Zaw Latt. For instance, members of the Myanmar Cartoonists Association marched through the streets of Yangon, carrying cutouts of animated characters and making political cartoons condemning the military's actions. 
Meanwhile, the Association of Myanmar Contemporary Art held an art-making protest in Yangon in favor of CDM, as well as a group photography project portraying people making the three-finger tribute in opposition to the coup. The hand gesture has become a symbol of resistance, both among crowds of protesters and in artworks influenced by the movement in regards to Suzanne Collins' dystopian young adult series "The Hunger Games," which is about a revolt against an oppressive government. Moreover, artist Khin Zaw Latt arranged a collaborative artwork with 120 creators who submitted their interpretation of the salute. The collaborative mural is dotted with ECG heartbeat lines to complete the sense of humanity and the longing for the freedom of life.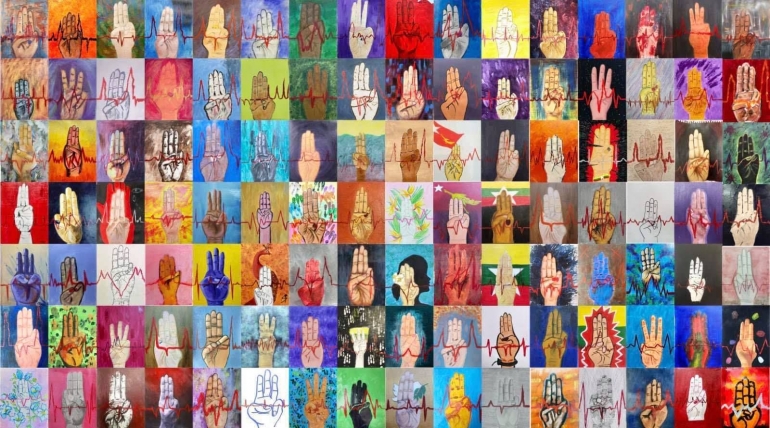 A collection of paintings by Khin Zaw Latt supporting Myanmar's Civil Disobedience Movement. Photo courtesy belongs to the artist. 
To put a stop to the demonstrations and to spread awareness, the government imposed a nationwide internet blackout and declared martial law, which made gatherings of more than five people illegal. However, the abundance of graphics and other artworks in the Southeast Asian nation demonstrates that protest is still alive and well. On the Art for Freedom (Myanmar) website page (artforfreedommm.com), artists collaboratively present their creations, including hundreds of downloadable protest artworks. Many of the paintings are red, portraying the color of Aung San Suu Kyi's political party. At the same time, others depict Burmese people banging pots and pans in a loud protest against the coup, which is culturally used to keep out the demon. Both of them show a willingness to re-establish democracy. 
Through artworks, prints, and rallies, the youth of Burma also deliver their message on various social media platforms, including Twitter and Facebook. Soup Not coup, a new account on Twitter where the writer expressed their insults and witticisms are laced with sharp insights into life in Myanmar, is also part of the anti-military alliance. "These little green men (coup leaders) are so steeped in their tea that they think they are the best flavor, but a dictatorship is not what we ordered," the group said on Twitter to Nikkei Asia. Nobel Aung was pleasantly surprised by the outpouring of creativity that has flooded Myanmar's streets as well as social media feeds. He and his younger brother started a private Facebook group called Art for Freedom (Myanmar) on the 4th of February to bring artists and protesters together. In only ten days, the organization grew to 6,000 people, and it now has a website where artwork can be downloaded for free as long as it is utilized to oppose the coup. 
These efforts initiated by the youngsters of Burma surely made a significant impact on spreading awareness of the military's ruthless regime. Through these cultural movements, young artists and writers have expressed themselves in various art forms freely. Resulting in mass engagements and encouragements for others to do the same, fight for their freedom and strive for justice in Myanmar. 
Bibliography
Head, J., 2021. Myanmar coup: Woman shot during anti-coup protests dies. [online] BBC News. Available at: <https://www.bbc.com/news/world-asia-56122369> [Accessed 12 March 2021]. 
Jiang, E., 2021. Woman shot protesting Myanmar military takeover dies. [online] Mail Online. Available at: <https://www.dailymail.co.uk/news/article-9277337/Woman-shot-week-Myanmar-protest-dies.html> [Accessed 12 March 2021]. 
Win, T., 2021. Young, creative and angry: Myanmar's youth pushes back. [online] Nikkei Asia. Available at: <https://asia.nikkei.com/Life-Arts/Young-creative-and-angry-Myanmar-s-youth-pushes-back> [Accessed 12 March 2021]. 
Cuddy, A., 2021. Myanmar coup: What is happening and why?. [online] BBC News. Available at: <https://www.bbc.com/news/world-asia-55902070> [Accessed 12 March 2021]. 
Turan, R. and Kartal, A., 2021. Activists call for sanctions in wake of Myanmar coup. [online] Aa.com.tr. Available at: <https://www.aa.com.tr/en/asia-pacific/activists-calls-for-sanctions-in-wake-of-myanmar-coup/2156648> [Accessed 12 March 2021]. 
Cascone, S., 2021. After a Military Coup, Artists Across Myanmar Are Making Protest Art to Share Their Struggle for Democracy With the World—See Images Here. [online] Artnet News. Available at: <https://news.artnet.com/art-world/myanmar-artists-protest-coup-1943543> [Accessed 12 March 2021]. 
Tan, Y., 2021. Myanmar coup: How citizens are protesting through art. [online] BBC News. Available at: <https://www.bbc.com/news/world-asia-55930799> [Accessed 12 March 2021]. 
Beech, H., 2021. Paint, Poems and Protest Anthems: Myanmar's Coup Inspires the Art of Defiance. [online] Nytimes.com. Available at: <https://www.nytimes.com/2021/02/17/world/asia/myanmar-coup-protest-art.html> [Accessed 12 March 2021]. 
Hayes, S., 2021. How Myanmar's Creatives Are Fighting Military Rule with Art. [online] Time. Available at: <https://time.com/5938674/myanmar-protest-digital-crackdown/> [Accessed 12 March 2021]. 
Mitman, T. (2018). The art of defiance: Graffiti, politics and the reimagined city in Philadelphia. Intellect Books. 
About Writer
Berliana

 

Azka

 

Afina

 is a Research Lead on ASEAN Socio-Cultural Community at UGM ASEAN Society

 
https://asc.fisipol.ugm.ac.id/wp-content/uploads/sites/741/2021/09/Untitled-2.png
865
2048
syukron.subkhi
http://asc.fisipol.ugm.ac.id/wp-content/uploads/sites/741/2019/03/Logo.png
syukron.subkhi
2021-09-24 06:19:29
2021-09-24 06:41:44
The Youth Resistance Towards Myanmar's Military Coup: Efforts of Young Generation Protest Through Art