Institutional Visitation by H.E. Deng Xijun – Ambassador of Chinese Mission to ASEAN
The Chinese Mission's Ambassador to ASEAN, H.E. Deng Xijun, and colleagues paid a visit to the ASEAN Studies Center and the Faculty of Social and Political Sciences of Universitas Gadjah Mada on Friday, November 18, 2022. This visit is intended to keep the Center and Chinese Mission to ASEAN engaged and working together, which has lasted for about 7 years and, hopefully, for many more. The Chinese Mission to ASEAN contributed a number of office equipment that are expected to increase the Center's productivity in time for Indonesia's ASEAN Chairmanship the following year as a way to highlight the collaboration between the two institutions.
The Executive Director, Faculty Dean, and H.E. Deng Xijun discussed ways to improve the relationship between the Center, Faculty, and Mission in the near future. Several members of the ASEAN Studies Center UGM staff and researchers have recently obtained scholarships and mobility opportunities from the Chinese government.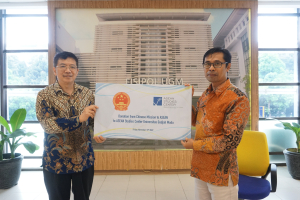 H.E. Deng Xijun believes that with the existing engagement and the development of the China-ASEAN Partnership, additional collaboration can be enlisted to promote scientific research and collaboration. Additionally, His Excellency is willing to hear ideas and support with the initiative. H.E. Deng Xijun expects the collaboration could arise several policy recommendations, particularly in terms of the Myanmar Resolution, and support the initial stages of research projects in terms of the studies on decision making during the ASEAN Summit as His Excellency concerned with the situation of Myanmar for the Indonesia ASEAN Chairmanship next year.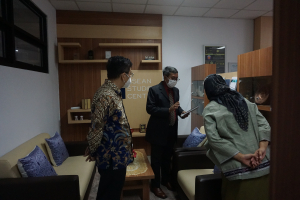 To wrap up the visit, H.E. Deng Xijun and the staffs were invited to visit the Center's office in FISIPOL BC Building 2nd Floor Suites 208 and 209. In the office, H.E. Deng Xijun, Dr. Dafri Agussalim, Mrs. Yulida Nuraini Santoso, and others had a brief discussion about future institutional collaboration.
#ASEAN #SoutheastAsia #ASC #ASEANStudiesCenter #PSA#UGM #ChineseMissionToASEAN #China #Chinese#ChineseMission #Visitation #FISIPOL #FISIPOLUGM#BRINGINGASEANCLOSERTOYOU
Report by
Syukron Subkhi
Media and Communication Officer
https://asc.fisipol.ugm.ac.id/wp-content/uploads/sites/741/2022/11/DSC00211-scaled.jpg
1707
2560
syukron.subkhi
http://asc.fisipol.ugm.ac.id/wp-content/uploads/sites/741/2019/03/Logo.png
syukron.subkhi
2022-11-21 05:55:02
2022-11-21 05:55:02
Institutional Visitation by H.E. Deng Xijun – Ambassador of Chinese Mission to ASEAN