An Online Citizen: Revealing Restrictions on the Freedom of Press and Mass Media in Singapore
Written by: Syukron Subkhi
Democracy is continually evolving to keep pace with the changing nature of the world. In the digital era, a new form of democracy has emerged through the transformation of media or other tools used to implement the principles of democracy, such as digitalization. Digital democracy is tied to modernization in a variety of daily life aspects. Accordingly, the internet provides a more open platform to access opinion and expression worldwide rather than traditional mass media.
There is a role for the media and press in overseeing the formation of various government policies and regulations. Media criticism is thought to be more effective in empowering the community to shape policies centered on citizens' interests. So far, it appears that independent media and press are generating critical voices to influence public opinion against the government. The goal is to ensure and control that the government policies and activities are in accordance with applicable law (Lestaluhu, 2015).
Current Situation on Democracy and Press Freedom in Singapore
One way to exercise one's democratic right to free speech is through the press and other forms of mass media. According to the 2021 Democracy Index, the indicator of civil liberties -comprises individuals' fundamental rights and liberties that are protected against any arbitrary measures or other government intervention without due process of law- in Singapore is at the point of 6.18 out of 10, and the country's average score with four other indicators is 6.23, despite Singapore's relatively high economic level compared to other ASEAN member countries (Arbar, 2022). In terms of press freedom, Singapore is ranked 141st out of 200 countries on UDI and 66th overall based on an average of the other four indicators. This places Singapore as one of the countries with a faulty democracy system. (EIU, Democracy Index 2021: The China Challenge, 2022).
The Singapore Parliament passed the Foreign Interference Act (FICA) on October 4, 2021. People's freedom of movement and political participation are at risk under this law, which could be used as ambiguous yet biased laws to weaken the "people power" and ability to influence the ruling government. According to the International Court of Justice, FICA violated international human rights law's principles of legality, necessity, and proportionality. Unnecessarily sweeping legislation covers a wide range of politically-motivated conduct in Singapore. The FICA Law's unclear provisions also give the executive branch the ability to interpret and implement the law in any way they see fit (ICJ, 2021).
One of the most damaging aspects of FICA is its ability to allow the executive, through Singapore's Ministry of Home Affairs (MHA), to order the removal or deactivation of online content. The provisions of the FICA Act state:
"Activities carried out in connection with foreign interests and directed at political ends in Singapore may be criminalized if there are indications of communications being conducted in secret or with fraud, including the intentional use of encrypted communication platforms."
There is a wide range of activities that fall under the umbrella of "activities aimed at political ends," including social justice advocacy, artistic commentary, academic research, and journalistic coverage by members of the public and private sectors. Singaporeans' ability to organize and participate in public affairs will be severely restricted by this law, it is clear (ICJ, 2021). This issue will definitely affect the versatility of the democratic advocacy activities, for instance, The Online Citizen that will be discussed in this article.
The International Court of Justice (ICJ) believes that punishments for violators of FICA laws are disproportionate and that many of these sentences can be imposed without adequate independent oversight or remedies in cases of human rights violations, which can have long-term negative effects on public discourse. Authorities may fine censored online content, accounts, services, apps, and locations (ICJ, 2021). As a result, UDI Singapore's political participation and political culture assessment indicators have been lowered from 4.44 and 7.50 to 4.44 and 7.50, respectively. (EIU, Democracy Index 2021: The China Challenge, 2022).
"An Online Citizen"
In order to express and criticize the government's abuse of power, a documentary film titled "an Online Citizen" was made, which examines how the government of Singapore controls nearly 90% of the country's media and the information that is widely available there. "An Online Citizen" was produced in 2019 and directed by independent British journalist Calum Stuart, who lives in Singapore. This documentary film features the story of Terry Xu, the Chief Editor of TOC (The Online Citizen), a platform for blogging communities in Singapore. He describes this film as "very observational" to investigate the expression of democracy in Singapore is slightly restrained (in an interview with the New York Times).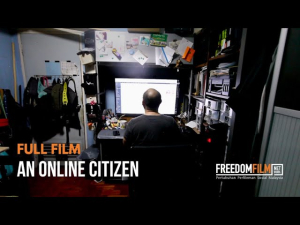 Scene from the film "an Online Citizen"
In order to better understand the impact of the film's production, the film's director was given permission to focus on examining the effects that were experienced by groups of people or organizations, independent journalists, and media outlets towards the implementation of POFMA (The Protection from Online Falsehoods and Manipulation Act). As a result of the passage of POFMA by the Singaporean Parliament, the political and democratic situation in Singapore has become tenser and more charged than it had been previously. TOC is an excellent choice for the primary subject of a documentary because of the fact that the TOC is a long-standing media community in Singapore that has been active and steadfast in conveying personal freedom and conveying information in Singapore.
"an Online Citizen" managed to accomplish two things at once. The movie demonstrates that TOC, as an independent media community, has limitations in conveying criticism and facts about poor policy-making in Singapore from the perspective of public involvement, as well as the criminalization of journalists and media that are against the government. First and foremost, the Singapore Broadcasting Law's blocking of this movie shows the government's unwillingness to accept criticism and opinions from the public because it is feared that it will lead to an increase in public awareness of direct political participation, which could influence policy-making. These facts demonstrate how the current Singaporean government restricts and harms the freedom to express one's views and take part in politics, both of which are essential components of a healthy democracy.
Conclusion and Recommendation
The rights of freedom of expression and participation in political movement are part of the fundamental aspects of democracy which are stated in Article 19 of the Universal Declaration of Human Rights 1948. As a country that adopted the democratic system for its governance, it is mandatory for Singaporean Government to protect its people to actively participate in political movements. Disobeying the human rights mechanism means that the ruling government fails to implement the commitment to the democratic system.
This issue needs a deep concern and understanding, where the legal systems will be unable to protect the critical voices of its people from the ruling government that has the power in controlling the media and surpass ambiguous laws without truly independent courts. Attempting to embarrass the government's action is arguably an effective and potent measure of those who favor freedom of expression. Bringing to light instances of legal actions, persecutions, and violations against journalists and their publications in the form of critical and creative approaches may seem modest, but it might mean the difference between freedom and its antithesis.
About Writer
Syukron Subkhi is a Media Publication and Research Assistant at ASEAN Studies Center Universitas Gadjah Mada. He holds a bachelor's degree in social sciences majoring in International Relations with a particular focus on human rights, democracy, and development studies. He can be contacted through syukron.subkhi@ugm.ac.id
Bibliography
Lestaluhu, S. (2015, April 2). Peran Media Massa dalam Mengawal Kebijakan Publik di Ambon. p. 2.
EIU. (2022). Democracy Index 2021: The China Challenge. London: The Economic Intelligence Unit.
Arbar, T. F. (2022, February 11). Daftar Terbaru Negara Terkaya Asia Tenggara, RI Nomor Berapa? . Retrieved from CNBC Indonesia: https://www.cnbcindonesia.com/news/20220211090408-4-314601/daftar-terbaru-negara- terkaya-asia-tenggara-ri-nomor-berapa
ICJ. (2021). Singapore: Withdraw Foreign Interference (Countermeasures) Bill. International Court of Justice.
https://asc.fisipol.ugm.ac.id/wp-content/uploads/sites/741/2022/08/the-climate-reality-project-Hb6uWq0i4MI-unsplash-scaled.jpg
1707
2560
syukron.subkhi
http://asc.fisipol.ugm.ac.id/wp-content/uploads/sites/741/2019/03/Logo.png
syukron.subkhi
2022-08-04 02:01:02
2022-08-04 02:07:46
An Online Citizen: Revealing Restrictions on the Freedom of Press and Mass Media in Singapore