Internship at ASEAN Studies Center UGM 2021
In early September, the ASEAN Studies Center Universitas Gadjah Mada had accepted 7 students and new graduates to take part in the internship program offered by the Center for three months. The interns are separated into three divisions at the Center, namely the Research, Programs, and Media Division. The internship program was carried out with a hybrid system (online and offline), and was not only offered to students/graduates of the Faculty of Social and Political Sciences (FISPOL) Universitas Gadjah Mada, but also students from other faculties and/or universities.
During the internship period, interns are responsible for supporting and assisting the daily activities and work of each division. They were involved in most of the programs, research, and publications conducted by the Center, to experience the working atmosphere in a think-tank institution and get professional supervision from each division and the Managing Director of the ASEAN Studies Center UGM.
In addition, the interns were given several Capacity Building Classes held every 2 weeks, to enhance their skills and get more point of view from the experts, such as Project Management, Introduction to ASEAN, Career Development Pathways, Policy Brief Writing, and Photo Discussion. From this internship program at the ASEAN Studies Center UGM, interns are expected to be able to discover additional professional skills and knowledge to build their professional career paths.
In addition, the internship program also assigned several academic-research tasks that interns must complete, such as writing op-ed articles, creating podcasts, infographics, and working papers. These academic assignments aim to increase the awareness and knowledge of apprentices on issues in the ASEAN and Southeast Asia region.
See you at our next internship program next year! Keep an eye on our website and social media for more information!
Interns:
– Alysia N. Dani (Research Intern)
– Veronica Ayu (Research Intern)
– William Help (Research Intern)
– Chusnul Mar'iyah (Program Intern)
– Lucky Kardanardi (Program Intern)
– Citta Azarine A. (Media Intern)
– Munawar Wahid S. (Media Intern)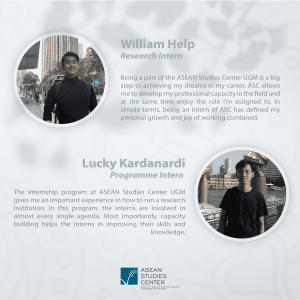 #ASEAN #SouthEastAsia #ASEANStudiesCenter #ASC #UGM#Internship #OnlineInternship #InternshipatASC#InternshipAtUGM
https://asc.fisipol.ugm.ac.id/wp-content/uploads/sites/741/2021/12/1.png
3000
3000
syukron.subkhi
http://asc.fisipol.ugm.ac.id/wp-content/uploads/sites/741/2019/03/Logo.png
syukron.subkhi
2021-12-13 08:21:53
2021-12-13 08:21:53
Internship at ASEAN Studies Center UGM 2021