Network on ASEAN-China Think Tanks (NACT) Annual Meeting 2021
The 2021 NACT Annual Meeting, which also marks the 30th anniversary of the ASEAN-China Dialogue Relations, was held on March 19, 2021. In his opening remarks, President of China Foreign Affairs University (CFAU), Xu Jian, stated that in times of difficulties where the COVID-19 pandemic challenges multilateralism, it is the region's ultimate fight to curb the virus's spread while at the same time strengthen the commitment in regional partnership in coping with the adverse impacts on the social and economic sector.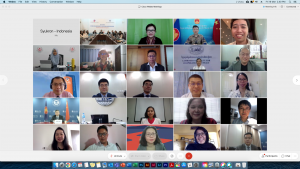 On a similar note, Dr. Nguyen Hung Son, the Vice President of Diplomatic Academy of Viet Nam (DAV), acknowledged that the forum could be a platform to discuss and comprehend each view on the Southeast Asia region's development. On this occasion, the panel is expected to promote good relationships and bring prosperity to the parties. As an essential dialogue partner, a substantive partnership among NACT members is needed in order to construct ideal regional architecture. In regards to current challenges, the foundation of the cooperation must be based on responsibility and responsiveness.
The moderated discussion was attended by nine keynote speakers from each of NACT members and was parted into two panels; (1) Economy and Sustainable Development in ASEAN – China Relations, moderated by Dr. To Minh Tu (DAV), and (2) Economy and Sustainable Development in ASEAN – China Relations, moderated by Prof. Guo Yanjun (CFAU). NACT Indonesia was represented by Mrs. Yulida Nuraini Santoso (Managing Director of ASEAN Studies Center, Universitas Gadjah Mada) with a research paper titled "Achieving Sustainable Development Goals by 2030: Reducing the Gap of Inequality through ASEAN-China Trade Relations." In her statement, Mrs. Yulida proposed ways forward in eradicating inequality, such as strengthening the partnership between China and ASEAN, which is based on mutual benefits and exchanging innovation among international organizations.
The meeting was concluded with a hope to enhance mutual trust and understanding between China and ASEAN member states, as well as exchanging knowledge and perspective to ensure stability, resilience, and development in the region.
http://asc.fisipol.ugm.ac.id/wp-content/uploads/sites/741/2019/03/Logo.png
0
0
syukron.subkhi
http://asc.fisipol.ugm.ac.id/wp-content/uploads/sites/741/2019/03/Logo.png
syukron.subkhi
2021-03-22 04:03:29
2021-03-22 04:03:15
Network on ASEAN-China Think Tanks (NACT) Annual Meeting 2021