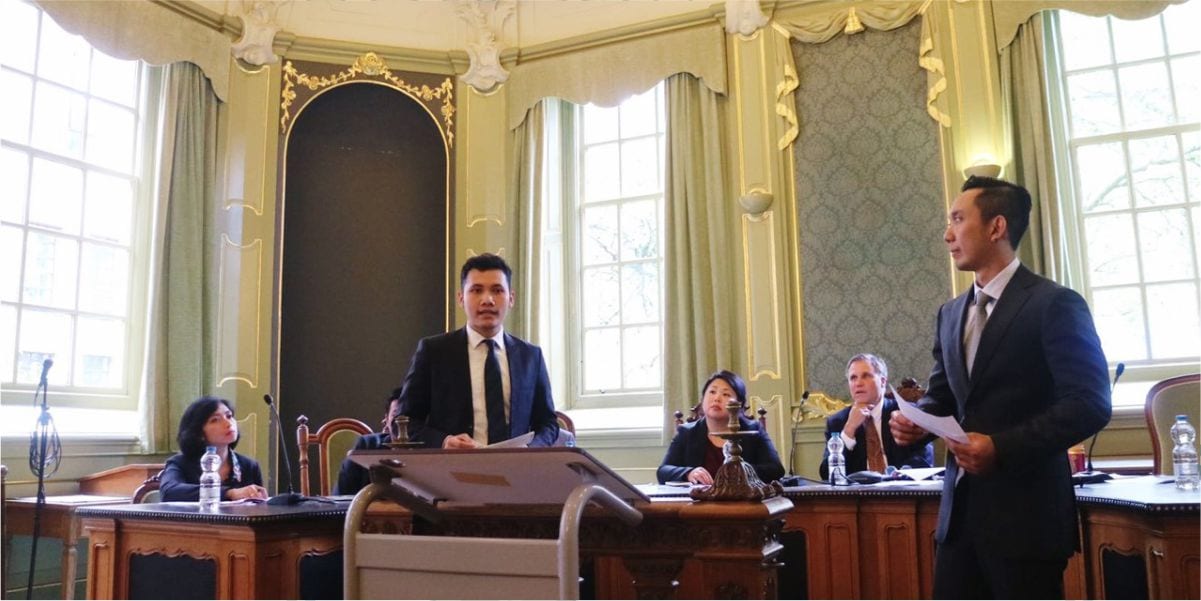 On Tuesday (12/9), M. Prayoga Permana and Dio Herdiawan Tobing, introduced ASEAN Studies Center (ASC) Universitas Gadjah Mada and its the newly established cooperation with Groningen Research Centre on Southeast Asia (SEA ASEAN) and ASEAN at the Centre's Fall Conference on Challenges of Governance in Southeast Asia and ASEAN.
The conference was opened by an introductory speech from Prof. dr. Ronald Holzacker, the Executive Director of SEA ASEAN, noting that the aim of the conference was to present research findings of the centre's Ph.D candidates whose research are surrounding most up-to-date topics of governance in Southeast Asia.
The conference was attended by the Ambassador of the Republic of Indonesia to the Kingdom of the Netherlands, I Gusti Agung Wesaka Puja and the Embassy's Education and Cultural Attache, Bambang Hari Wibisono.
Furthermore, the conference was divided into three tracks, which consists of Economic Challenges to Development in Southeast Asia and Regional Integration, Spatial Challenges to Development in Southeast Asia, and Political, Social, and Legal Challenges to Development in Southeast Asia and Regional Integration.
In the conference, M. Prayoga Permana, the Former Director of ASC and Lecturer at the Department of Public Policy and Management UGM began his presentation by explaining how the two universities agreed initiate collaboration in the field of research, conferences, and student exchanges.
Following his presentation, Dio Herdiawan Tobing, ASC's Former Research Manager and currently LL.M Student in Leiden University, introduced the ongoing projects initiated by both research centers. He pointed, "we are currently working on a research project covering the ASEAN haze agreement in Southeast Asia, an international working conference which will be held next month, and a book launch which scheduled to happen in November 2018″.
The international working conference will carry a theme of Regional and National Approaches toward the Sustainable Development Goals in Southeast Asia and ASEAN, taking place at the Faculty of Social and Political Sciences, Universitas Gadjah Mada on 3-5 October 2017.
Lastly, the conference was then followed by presentations from SEA ASEAN's Ph.D. candidates in regards to their dissertation research findings.
https://asc.fisipol.ugm.ac.id/wp-content/uploads/sites/741/2017/09/Backup_of_Panduan-Post.jpg
601
1201
aseansc
http://asc.fisipol.ugm.ac.id/wp-content/uploads/sites/741/2019/03/Logo.png
aseansc
2017-09-19 20:16:21
2019-05-12 14:53:44
ASEAN Studies Center Introduced at Groningen Fall Conference on Challenges of Governance in Southeast Asia and ASEAN