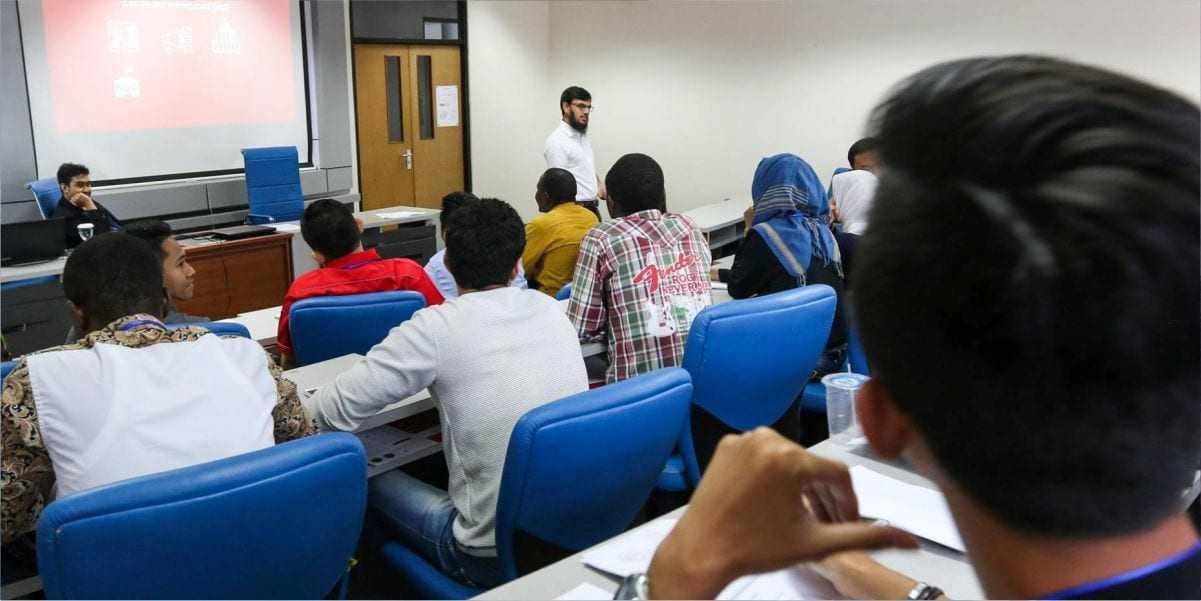 AYIEP Participants Learn from Asian Start-Ups
After joining International Seminar on  ASEAN 50th Anniversary at the 1st day, the ASEAN Youth Initiative Empowerment Program (AYIEP) continues by presenting two public lectures from young, creative digital entrepreneurs. Mr Alfatih Timur (also renowned as Timmy), the founder of Kitabisa.com –the first Indonesian digital crowdfunding platform—shared his experience alongside Mr Makshud Manik, the founder of youthop.com, a Bangladeshi platform for youth opportnities information.
In the first session, Mr Timmy shared his experience by introducing his crowdfunding initiative to Indonesian digital audience since 2013. "We created a platform to help people who need financial assistance by facilitating campaign in digital media. It succeeds with many campaigns funded even exceed 100% of their proposed target", said Timmy in front of 24 AYIEP participants.
A former student activist at the University of Indonesia, Timmy's achievement has been acknowledged by Kompas, the most prominent Indonesian newspaper, and Forbes. His initiative was also endorsed by Professor Rhenald Kasali, his mentor and Professor of Business at the University of Indonesia.
Timmy also expanded his digital charity to help people abroad, including Rohingya.  "As long as there are initiatives, we are keen to help", said Timmy.
The second session presents Mr Makshud Manik, the co-founder of Youthop.com. He provided platform for Asian youths to share information of opportunities, such as; conference, workshop, and summer schools.
"We are fortunate to have Indonesia and ASEAN as the biggest viewer of our website", said Makshud, who also works as a Senior Researcher for Dhaka-based think-tank Institute for Policy  Advocacy and Governance (IPAG).
With emerging global connectivity, ASEAN remains one of the biggest shareholder in world market. "It should be responded by digital innovation, which saw ASEAN as a growing user in the latest decade", said Makshud.
He also addressed some challenges for digital innovation. "We also face the emergence of both deep webs and dark webs, which oftenly misused digital platform for transnational crime. Our innovation try to encounter these trends by providing access and opportunities for young people", Makshud added.
The ASEAN Youth Initiative Empowerment Program was held from 23-29 July 2017. The short course program includes series of Public Lectures, Seminars, Working Groups and recommendation drafting session which aimed to enhance global and regional connectivity.
https://asc.fisipol.ugm.ac.id/wp-content/uploads/sites/741/2017/07/Panduan-Post-1-1.jpg
601
1201
aseansc
http://asc.fisipol.ugm.ac.id/wp-content/uploads/sites/741/2019/03/Logo.png
aseansc
2017-07-31 16:13:56
2019-05-12 14:53:45
AYIEP Participants Learn from Asian Start-Ups