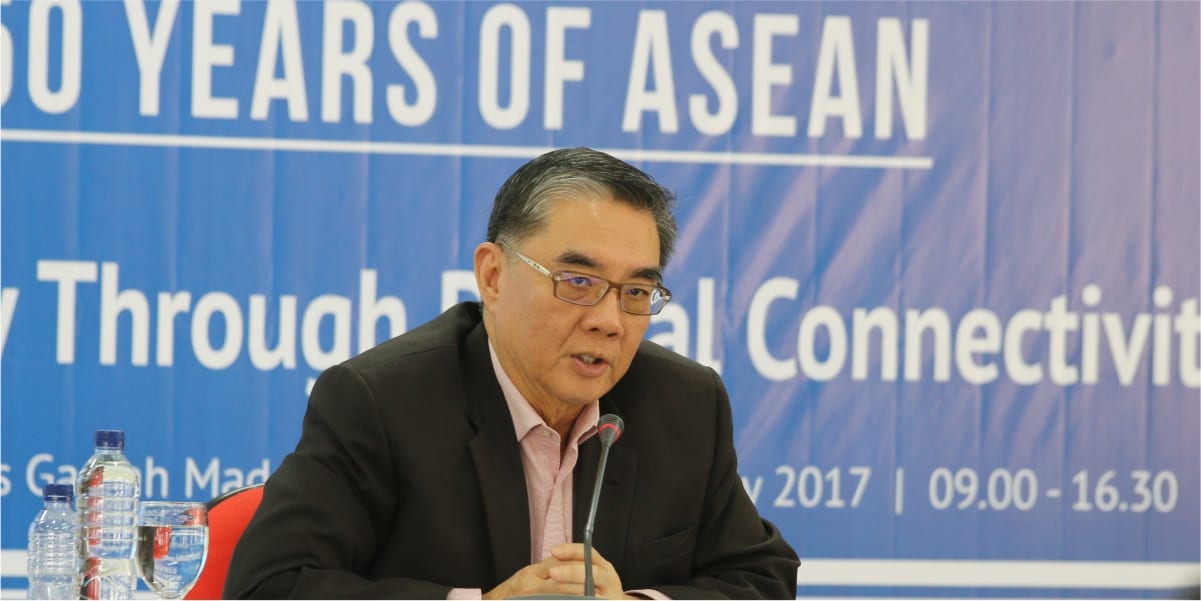 Ambassador Ong Keng Yong: Digital Transformation is the Future of ASEAN Integration
ASEAN's 50th anniversary should be addressed by nurturing digital integration, says H.E. Ambassador Ong Keng Yong, former ASEAN Secretary-General in FISIPOL UGM  (27/7).
Speaking as a Keynote Speaker at an International Seminar held by ASEAN Studies Center UGM, Ambassador Ong highlights the importance of ICT development in future ASEAN integration, which has been set up since his tenure as ASEAN Secretary General.
"Today we face rapid technological development following the rise of ICT platforms in the region, particularly in Indonesia. ASEAN needs to foster digital innovation and strengthen local economies through digital platform," said Ambassador Ong.
He highlights the progress that has been advanced in ASEAN since early 2000s, which involved the creation of ASEAN ICT Masterplan and other regional policy frameworks in tackling digital divide.
"ASEAN is indeed not perfect, but we are keep progressing and ASEAN is the only regional organisation we have now", said Ambassador Ong.
The International Seminar on ASEAN's 50th Annivesary was held in conjunction with the 2nd ASEAN Youth Initiative Empowerment Program (AYIEP), an annual program by ASEAN Studies Center UGM to foster social awareness among ASEAN youths. The program is held from 23-29 July 2017 in Yogyakarta, following the success of the 1st AYIEP in August 2016.
Several prominent figures in ASEAN are invited to deliver speech and lectures. Besides Ambassador Ong, the speakers are Ambassador Djauhari Oratmangun, Senior Adviser for Indonesian Minister of Foreign Affairs, H.E. Mr. Stuart Shaw (Political Counsellor at Canadian Mission to ASEAN), Alfatih Timur (Founder and CEO of Kitabisa.com), and Makshud Manik (Founder of Youthop.com). Ambassador Foster Gultom (Senior Official at the Directorate-General for ASEAN Cooperation) and Dr. Poppy S Winanti (Vice Dean of FISIPOL UGM) were also present to chair the sessions.
There are 24 participants from neighbouring ASEAN countries and outside the region who participate  at the Program, including from Vietnam, Phillippines, Japan, Egypt, and Indonesia. Several exchange students from African countries also joined the program. They will exchange ideas at Working Groups and visit some digital hubs in Yogyakarta as a part of the program.
https://asc.fisipol.ugm.ac.id/wp-content/uploads/sites/741/2017/07/Ong-Keng-Yong-Post-1.jpg
601
1201
aseansc
http://asc.fisipol.ugm.ac.id/wp-content/uploads/sites/741/2019/03/Logo.png
aseansc
2017-07-28 10:18:46
2019-05-12 14:53:46
Ambassador Ong Keng Yong: Digital Transformation is the Future of ASEAN Integration