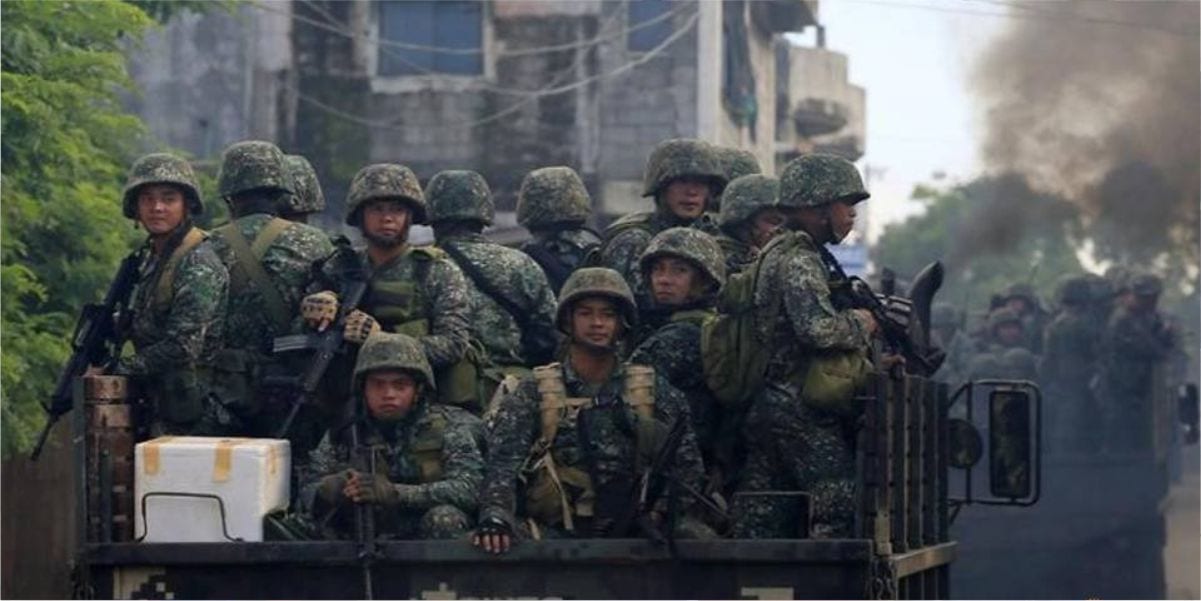 Since the past two weeks, Southeast Asia has been putting a serious concern to its security and stability caused by the state of crisis in Marawi and Mindanao. Isnilon Hapilon, appeared to be a famous criminal who has committed itself in a global crime featured in the list of targeted person by FBI, becomes the reason why Armed Forces of Philippines started its fire in Marawi. Currently, the AFP has been fighting against 400 militants of Islamist fighters in Marawi, including foreign fighters, causing almost 200,000 civilians flee away from the city. By placing the entire Mindanao under martial law, President Rodrigo Duterte perceived that this approach would end the crisis soon.
Even this issue was considered as a topic for discussion during the annual regional security forum, The Shangri-La Dialogue. This topic was brought by the Singapore's Defense Minister Ng Eng Hen, who is afraid if the situation in Marawi and Mindanao is not immediately resolved under the framework of cooperation between ASEAN member countries, Southeast Asia would have to bear the responsibility for a greater spill-over effect to the region.
Amidst a belief that President Rodrigo Duterte would have been successful to 'solve' his national security crisis alone, the transnational nature of Islamists insurgency and radicalism needs a significant role of ASEAN, not only to have a prompt response against potential security threat, but also to prevent the growth of radicalism and transnational crime.
Practically, ASEAN member states have stepped up cooperation as the threat from Islamic State increases. They planned to utilize spy planes and drones to stalk the movement of militants. The existing trilateral joint maritime patrol between Indonesia, Malaysia, and Philippines will be intensified. Even the United States through U.S.-ASEAN meeting seeks an entry point to 'help' ASEAN whether it is intelligence, information, or else. Let alone Duterte has been offered a help by Russia to fight drugs and terrorism, and he himself demands for military assistance from Russia.
In this sense, ASEAN needs to learn from the case when Southeast Asia was regarded as 'second front' of the US Global War on Terrorism (GWOT). George Bush pushed to implement a regional counterterrorism consensus considering all terrorism-related activities into one bucket. On the other hand, the nature of Marawi's crisis is more multifaceted with crosscutting issues involving separatism, Islamic radical movements, and global crime network. In this sense, if Russia and the United States intervene more in this regional issue let alone putting a similar doctrine like GWOT, it is plausible that the Philippines will become the 'Syria of Southeast Asia'. ASEAN member states should keep in mind that the ASEAN Convention on Counter Terrorism remains prime as a guideline to counter, prevent, and suppress terrorism in all forms. In this sense, the involvement of external parties should be considered carefully.
This does not dwell on defeating the militants per se, but also to close the gap for separatism. ASEAN needs to learn from the case of Indonesia, back to the end of 1990s where Indonesia lost East Timor. The indirect interventions from Australian government to support the insurgency of FRETILIN led by Francisco Xavier do Amaral had successfully foiled the two-decade Lotus Operation launched by Indonesian Armed Forces.
In fact, it is arguably that Duterte should realize that the case should be addressed to ASEAN as a regional body instead of ensnaring greater involvement from great powers. The larger involvement of great power in ASEAN's regional security problem will only pave a way to a more complex political-security environment in ASEAN. In this sense, it provides a criticism that the ASEAN's principle of non-intervention must be further question to reflect the current security and stability crisis in the region, especially the Article III and IV of ASEAN Convention on Counter Terrorism concerning the principle of non-interference and preservation of sovereignty.
ASEAN needs to be more fluid to encounter the transnational nature of threat. Having said that the nature of this threat is transnational, ASEAN member states need to realize that sovereignty is the primary cost to be paid. If ASEAN does not begin to put concern about 'shared sovereignty', not only is ASEAN's increasingly lost relevance in dealing with traditional and non-traditional security issues, the fall of the country to the hands of radical groups is not inconceivable.
Therefore, we may see the future challenge for ASEAN's security issues is not only in the way to manage and solve the primary security crisis in the South China Sea, but also to maintain security and stability in Marawi under the existing ASEAN Convention on Counter Terrorism. By not pulling in external parties to solve this issue, ASEAN will not lose its relevance to ensure the regional security and stability.
Dedi Dinarto is a researcher at ASEAN Studies Center, Faculty of Social and Political Sciences, Universitas Gadjah Mada.
https://asc.fisipol.ugm.ac.id/wp-content/uploads/sites/741/2017/06/MARAWI-ASEAN.jpg
601
1201
aseansc
http://asc.fisipol.ugm.ac.id/wp-content/uploads/sites/741/2019/03/Logo.png
aseansc
2017-06-10 19:52:02
2019-05-12 14:53:46
Marawi's Crisis Requires ASEAN's Centrality, Not External Intervention